Posted by The Fire Pit Store on 12th Jan 2023
Having a swimming pool in your backyard can be an incredibly rewarding experience. It can serve as a place to cool off during hot summer days and be the perfect spot to host backyard barbeques and pool parties. Not only is owning a swimming pool enjoyable, but it also increases the value of your home. With so many options available, choosing the right swimming pool for your backyard can be overwhelming. In this article, we will show different pool types, pool liners, and some limited information on pool pumps. Also showing different ways to spice up your backyard pool area.
When choosing a pool type, it's important to consider the amount of space available for installation, budget constraints, and desired features. Above-ground pools are typically less expensive than inground models, while also providing flexibility in terms of size and shape, plus they can be installed relatively quickly. Inground swimming pools require more time and money for construction but offer custom designs that can add a unique touch to any backyard. Regardless of which option is chosen, careful consideration should be given when deciding on the size, shape, and style best suited for each individual's needs.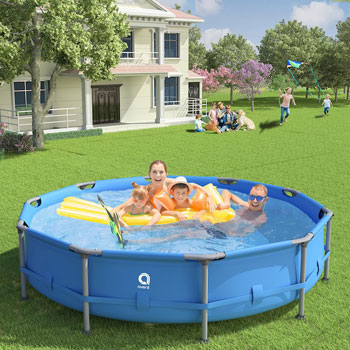 Above-ground swimming pools are a great option for those who want an affordable, do-it-yourself solution. They come in all sizes, including small circular ones perfect for kids or larger rectangular models that can accommodate several swimmers at once. Many above-ground pools also have decking around them to make them more attractive, as well as steps or ladders so it's easier to get in and out of the water.
In-ground swimming pools offer more permanent solutions with a wide range of design options available. In-ground swimming pools have become popular additions to many home landscapes in recent years. Not only can an in-ground pool provide hours of fun and relaxation, but it can also add tremendous value to a property. Homeowners looking to install an in-ground pool have numerous design options from which to choose. The most important considerations when deciding on the design of an in-ground pool are the size, shape, and material used for construction. Many people opt for traditional rectangular pools, while others take advantage of new curved designs that add visual interest and uniqueness to a backyard oasis. Additionally, homeowners must select between vinyl liner pools or concrete/fiberglass pools—both offer different levels of durability and cost-effectiveness. Additional design elements such as tile mosaics and built-in lighting create further customization opportunities while incorporating features like fountains or waterfalls to provide added visual appeal.
With the many liner options available, you can customize your pool to create a unique look that reflects your personality and style. No matter what type of liner you choose, it's important to select one that will stand up well against UV rays, chlorine, bacteria, and other contaminants for years of use. Vinyl liners are the most popular choice for in-ground pools because they are durable and cost-effective. They come in a variety of colors, textures, and patterns so you can find just the right look to fit your outdoor space. Vinyl liners also hold up well against hot temperatures or cold weather conditions while providing maximum flexibility when installed around odd shapes or contours.
Concrete tiles are another popular choice when it comes to creating underwater mosaics that add beauty and character to any outdoor environment. Concrete tiles can be customized with a variety of designs, textures, and colors. They are extremely durable and designed to withstand high temperatures and chemicals used in pool water. Furthermore, they provide superior resistance against corrosion and abrasion, which makes them ideal for swimming pools exposed to heavy use. Installation is fast and easy since concrete tile pieces fit together perfectly without cutting or sawing required.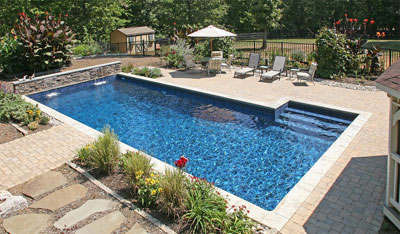 In-ground swimming pool pumps are a vital component of the overall functioning of an in-ground swimming pool. Without a functioning pump, the pool would not be able to circulate water properly, leading to bacteria and algae growth, as well as other issues. Pumps also help to keep the water at a comfortable temperature for swimmers by circulating warm water from the heater back into the pool. When selecting an in-ground swimming pool pump, it is important to choose one that is both powerful enough and energy efficient enough for your needs. The size of your in-ground swimming pool will dictate what type of pump you should buy; larger pools will require higher horsepower pumps than smaller pools.
With some creativity, you can create a stunning outdoor space with unique décor that will have all your friends wanting to come over for a swim! A very popular thing today is outdoor kitchens. You can add grills, pizza ovens, refrigerators, etc. This adds an increased outdoor living area in which to entertain along with your swimming pool. Start by adding colorful throw pillows and blankets to lounge chairs around the pool. If you have room, incorporate comfortable couches and tables for dining al fresco. Add lightings such as tiki torches or string lights to set the mood in the evenings. You can also use planters of lush foliage around the perimeter of the pool or hang plants from hooks near seating areas. Don't forget about accessorizing with beach towels, umbrellas, and floats! Another very popular item to add is a fire pit. Fire pits come in gas or wood burning options. Gas-fueled might be the best option for close to the swimming pool area.
In conclusion, backyard swimming pools and decor can create a beautiful and inviting atmosphere for your family to enjoy. Whether you choose to add fire pits, lighting, and pillows or just keep it simple with a pool and lounge chairs, you can create a stunning area for relaxation and fun. With the right design elements, you can transform your backyard into a tranquil paradise that is perfect for entertaining friends and family.