Posted by The Fire Pit Store on 15th Dec 2022
Spending time with family is a great way to create lasting memories and strengthen relationships. This article will explore the possibilities of creating an inviting outdoor patio that encourages family activities. From seating areas to games and accessories, many creative ideas can turn your home's patio into a fun gathering space for everyone in the family. We'll look at ways to make the most of your outdoor area and incorporate enjoyable activities into the mix.
Easy Patio Upgrades
When it comes to outdoor family fun, having a comfortable and inviting patio is essential. With just a few simple updates, your outdoor space can be transformed from dull to delightful in no time. From adding vibrant seating and brightening up your patio floor with pops of color, many easy upgrades make all the difference.
Upgrading your patio doesn't have to break the bank either. Adding comfortable lounge chairs or plush cushions for existing furniture can provide a more relaxed atmosphere quickly and affordably. If you opt for weather-resistant fabrics like Sunbrella fabrics you won't have to worry about staining or fading due to rain or sun exposure. Incorporating string lights into your décor is another great way to add an inviting touch while enjoying the outdoors after dark.
Creative Family Outings
Are you looking for an exciting way to get your family off the couch and into the great outdoors? Look no further than a backyard retreat! Getting out and having fun as a family is enjoyable and provides ample opportunity for valuable bonding time. There are lots of creative ways to make the most of your outdoor escape right in your backyard. From setting up a camping tent and roasting marshmallows to building an obstacle course or organizing a friendly neighborhood game, there's something for everyone to enjoy. Take advantage of all that nature has to offer by going on hikes or exploring nearby parks. If you're feeling extra adventurous, try some water sports like kayaking or canoeing on a nearby lake or river. The possibilities are endless when it comes to creating memorable experiences with your loved ones!
Stress-Free Outdoor Fun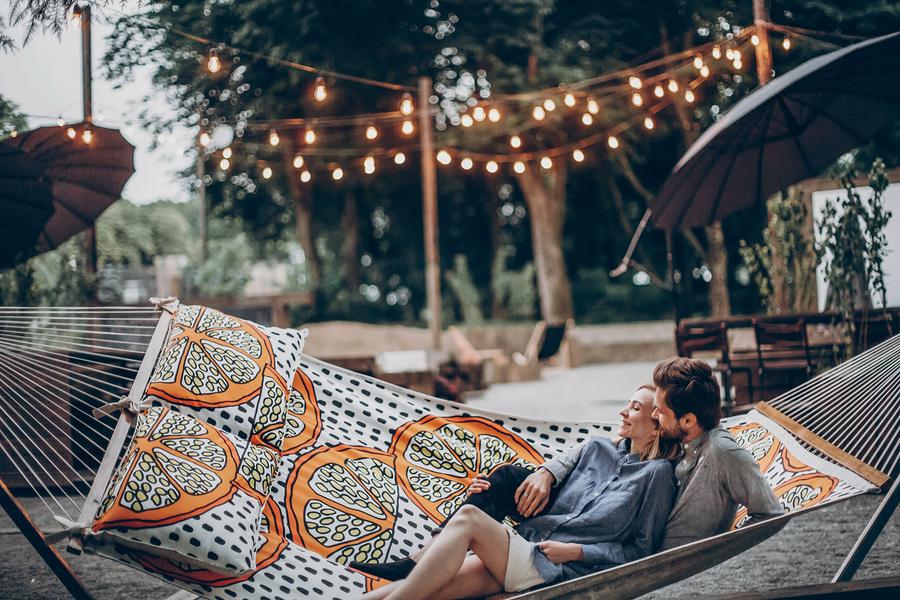 There's nothing quite like an outdoor retreat for families looking to break away from the stress of indoor activities. Not only is it a great way to get fresh air and enjoy some quality time together, but an outdoor retreat can be tailored to fit any family's needs. From playing a game of catch in the backyard to hunting for bugs in the garden, there are countless opportunities for stress-free fun. Bringing the family outside can help relieve tension and foster meaningful interactions between parents and children.
Whether it's building a treehouse or simply enjoying nature together, outdoors encourages everyone to step away from technology and connect on a deeper level. And with the world's current circumstances changing how we interact with each other, now is as good a time as ever for families to enjoy their outdoor haven - free from stress!
Reinventing Family Time Outdoors In Your Backyard
Spending time outdoors is a great way for families to bond and have fun. And with some creative thinking, creating an outdoor retreat in your backyard is easy. From picnics to camping and stargazing, there are plenty of ways you can reinvent family time outdoors.
Turning your backyard into the perfect retreat doesn't need to be expensive or overwhelming; small touches can make all the difference. Think about setting up comfortable seating around a firepit. Or adding a hammock or two between trees for snuggling up under blankets while watching the stars come out at night. You could even install an outdoor kitchen with an essential pizza oven that everyone in the family can enjoy!
Transforming Your Patio Into a Sanctuary
If you're looking for ways to make your outdoor living space more enjoyable, look no further than transforming your patio into a sanctuary. With a few simple additions and changes, you can create an area perfect for the whole family to enjoy quality time outdoors. From cozy seating options to landscaping ideas, there are plenty of ways to turn your backyard retreat into a fun-filled place where everyone can relax and unwind.
When it comes to sprucing up your patio space, start small by adding comfortable seating and plush pillows that will make it inviting. Consider investing in furniture with weather-resistant materials like wicker or plastic so you can keep it outside all year round. Consider a fire pit and/or patio heaters!